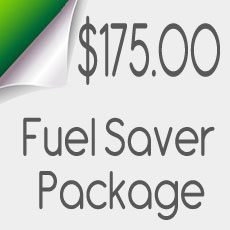 Fuel Saver Package:$175.00
Customers often ask what they can do to obtain better fuel economy today. Our Fuel Saver Package includes:
1. Inspecting and adjusting vehicle frontend alignment. Vehicles out of alignment tend to use 10% more fuel than properly aligned vehicles.
2. Rotate, check balance, and set tires to correct air pressure. Under inflated tires waste fuel, and cause unsafe driving conditions.
3. Inspect and replace engine air filter, if needed. A dirty air filter will cause poor engine performance, which causes poor fuel economy.
4. Perform three step complete fuel system cleaning. Perform upper cylinder de-carbonizing, fuel injector cleaning, and throttle chamber cleaning. Keeping intake systems clean and functioning at peak efficiency, helps to obtain the best fuel economy.
Applies to most cars.