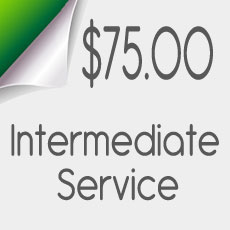 Intermediate Service: $75.00
Change engine oil, engine oil filter, up to five quarts energy conserving oil, tire rotation, air filter inspection and replacement, scope and check engine management systems. Applies to most cars.
Air Conditioning Service (Eliminate unpleasant odors from Air Conditioning and Heater vents) : $124.95
Keeping air conditioning operating at peak efficiency, not only adds comfort to your motoring, but also has added health benefits. Our service includes the following:
1. Perform air conditioning evaporator cleaning using a peroxide cleaning solution removes mold and mold spores that accumulate in your air conditioning system.
2. Inspect and replace cabin intake air filter, where applicable.
3. Clean air intake vents to air conditioning and heater units.
4. Inspect Freon levels, and air conditioner operating pressures.
Applies to most cars.