San Diego's Affordable Dealer Alternative Auto Repair and Service
Are you looking for an affordable dealer alternative auto repair and service in San Diego? We are ASE-certified Master Technicians that stay informed on all current factory information pertaining to the vehicles we service. We can perform all the major services required to maintain your factory warranty on your new car. We can also get your not-so-new car running better with regular auto and truck maintenance.
How are we able to work on so many makes and models? We have technicians that specialize in import luxury vehicles like BMW and Porsche, some that specialize in Honda, Toyota, Hyundai, Nissan and others that work only on domestic vehicles like Ford, Chevy, and Chrysler. All technicians have received training on hybrid vehicle care and maintenance.Our diagnostic equipment is the latest in technology, and is updated regularly
At Pacific Automotive we strive to provide our customers with quality service at affordable prices, and develop a personal relationship with our customers and their individual vehicle needs, delivered with integrity.

Why Choose Pacific Automotive?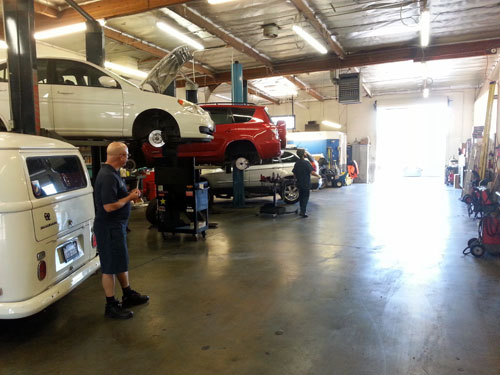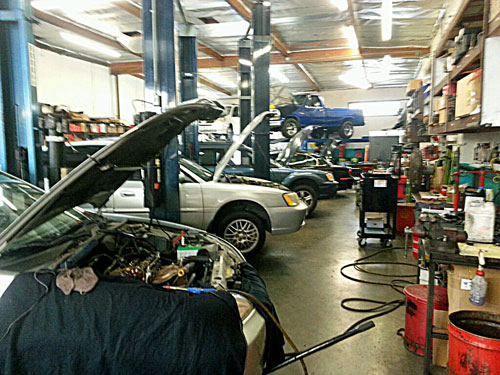 Relationship
At a large dealership, you likely have no idea which mechanic is working your car, what his or her experience is, and if they have or will ever work on your car again. It's important to know that your mechanic is competent, and you can get to know your mechanic personally at a smaller repair shop. Local shops usually allow for direct communication with your mechanic. Often, you can get to know the owner of the shop and the mechanic by name.
Experience Auto repair shops that specialize in more than one make of car can be very convenient for many families who drive more than one make. Factory trained technicians often move on to work at independent shops, and they can be just as expert in their knowledge as a mechanic at a dealership. This can be helpful if you want one-stop shopping and prefer to see the same faces each visit.
Location Repair shops are often in more easily accessible locations than dealerships, i.e., the proverbial "corner" garage. And just like dealerships, some independent shops will go the extra mile, providing consumers with loaner cars to drive while their service work is being performed. They may contract with a local car rental agency that is close by
Quality & Price Auto manufacturers and their dealers offer only OE (Original Equipment) parts. While you can request OE parts from your local repair shop if you desire, smaller shops can offer OE or aftermarket parts, which are meant to substitute for the OE part. The advantage of aftermarket parts is that, like generic prescription drugs, they are supposed to perform the same function for a lot less money. So you have the choice at small shops — go with OE parts, or save the money.

Our Happy Customers Say It The Best…
Fran I San Diego

Pacific Automotive is really the best place to take your car. I took my car their once because my break light wouldn't turn off. Turns out my whole master break cylinder has to be replaced... I was expecting a huge bill and to not have a car of days. Nope! Not only was the work cheap but I had my car back by the end of the day! I use to take my car to Midas for oil changes and they kept telling me to replace my transmission. I took my car to Pacific Automotive and they said it was totally fine!

Mert K. Pacific Beach

I am so happy to have found an honest shop near my house. I live in P.B and my Chrysler Sebring started to leak coolant bad. If that is not bad enough the exhaust pipe came loose when I drove over a pot hole. I was so worried that the repairs were going to cost more than what my 2005 car with 200 thousand miles on it. I found them trough my friend went there Jim was so helpful he looked for the parts and located them the whole thing cost me 375.00 which is great. They have customer for life now. I will highly recommend them to everyone

Kent W. San Diego

What a great place! I've been going to another auto repair place exclusively for the past 15 years; Pacific Automotive got recommended by a friend. I decided to give them a shot for a repair I needed. They were awesome!! I had an issue with a Check Engine light following the initial repair, and they even offered to COME TO ME to fix it!! It turned out to only be a small hose being loose/cracked, but they fixed the issue for free and gave me a FREE oil change or inconveniencing me! I've never been treated so well by ANY business like they've treated me.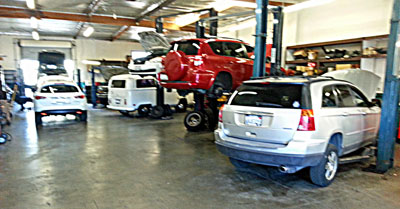 Factory Scheduled Maintenance
The manufacturer of your car provides a factory maintenance guide specific to the year and model. This is your minimum guide for routine maintenance. Not all vehicle models require the same schedule so it's important to use the specific manual for your specific model. Learn More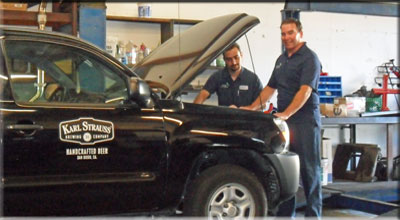 Lube, Oil and Filter
Pacific Automotive is your local oil change, lube and filter experts. Serving San Diego for more than 20 years, you can trust us to keep your car running smoothly. Learn More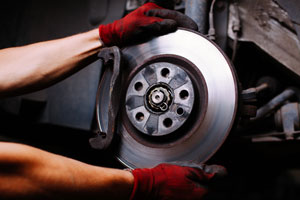 Complete Brake Services
Do you need brake service or repair in San Diego? Our shop is conveniently located off the 5 freeway in San Diego. We provide affordable, professional brake service. Do not take any chances by delaying your brake service. Contact us today to schedule your inspection. Learn More

Pacific Automotive Auto Blog
Helpful Tips for San Diego Drivers
See All Blogs 
Structured Data, Review
Title:

Home
Reviewed by
Mert K. San Diego Yelp Review
on
Sep 26
Rating:
Summary:
I live in P.B and my Chrysler Sebring started to leak coolant bad
Description:
I am so happy to have found an honest shop near my house. I live in P.B and my Chrysler Sebring started to leak coolant bad. If that is not bad enough the exhaust pipe came loose when I drove over a pot hole. I was so worried that the repairs were going to cost more than what my 2005 car with 200 thousand miles on it. I found them trough my friend went there Jim was so helpful he looked for the parts and located them the whole thing cost me 375.00 which is great. They have customer for life now. I will highly recommend them to everyone