Are you looking for the best way to protect your catalytic convertor in San Diego? Look no further! Pacific Automotive, your trusted local dealer alternative for more than 25 years, helps you keep the thieves away with CatClamp.
The CatClamp® was invented by a welder when a long-time customer with a large fleet of vehicles approached his company about solving the problem of catalytic converter theft on their fleet.
After discovering how rampant and costly the problem is, he decided to assist people in protecting themselves and their vehicles from these offenders.
About CatClamp®
The CatClamp has an exclusive, award-winning, patented cable cage design. It consists of an aircraft-grade wire rope which surrounds the catalytic converter. The rope is extremely difficult to cut, even with power tools.
COUNTERACT THE CRIMINALS WITH CATCLAMP®
The wire rope attaches to the exhaust pipes and locks the converter to the chassis of the vehicle up to seven times, creating too much work for a thief in a hurry.
CatClamp® keeps the thieves away with its award-winning design & proven durability.
The CatClamp® was invented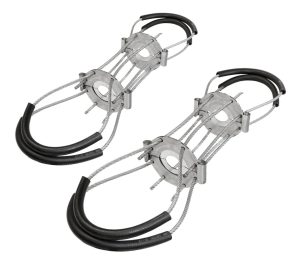 Use of CatClamp® products is recommended by the United States Department of Justice
The CatClamp® is the patented original converter lock, and has proven to be 99.9% effective for over ten years all around world
It has proven itself to be a superior product and sets the benchmark for catalytic converter security.
.
CatClamp Installations at Pacific Automotive, Local Dealer Alternative San Diego
At Pacific Automotive, we are a registered installer of CatClamp. Our ASE-certified Master Technicians will help you to stay informed on all current factory information pertaining to the vehicles we service. We strive to provide our customers with quality service at affordable prices. All delivered with integrity.