Pacific Automotive is ready to meet all of your fleet repair and maintenance needs. Our fleet service technicians can provide quick repairs and necessary factory maintenance requirements to maintain the factory warranty. ENTERPRISE FLEET SERVICE CARDS WELCOME. Ask our manager about our 2 years, 24,000-mile nationwide warranty* for your peace of mind. In addition to sedans and light trucks, we're experienced with shuttle buses and vans including Ford Transit and Transit Connect, Mercedes-Benz Sprinter, and Nissan NV. We'll work with your Enterprise Fleet Service contract to process the paperwork and get your vehicle back in service quickly.
Whether for contractors, corporate transportation, delivery services, or security services a reliable fleet is critical to business success. We provide preventive maintenance, expert diagnosis, and priority services that make it happen economically and worry-free. From small fleet managers to Large fleet managers our personalized services are appreciated for our quick turnaround time and competitive pricing, as opposed to long dealership waits and prices. *Certain restrictions apply.
Maintenance
Factory scheduled maintenance is the backbone of vehicle reliability and longevity, providing the best life-cycle costs. It also minimizes disruptions and keeps small problems from going into big headaches. Our express fleet services minimize downtime by going beyond basic maintenance. In addition to keeping an alert eye out for safety concerns, we pay extra attention to issues common in high-usage vehicles. We provide complete vehicle pre-CHP inspections to prevent costly CHP violations and downtime to our customers
Our technicians economically handle the basics such as oil changes and lubrication along with checking and topping off fluids. And our mechanics go the extra mile in inspecting and maintaining air conditioning, belts and hoses, brakes, cooling systems (including pressure testing), diesel particulate filters, electrical systems, engines, exhaust systems, fuel systems, suspensions, transmissions… and more. Our expertise includes special shuttle features such as wheelchair lifts, shuttle bus entry doors, and lift gates. Quality parts that are backed by a 2 year, 24,000-mile nationwide warranty* *Certain restrictions apply
Fleet Auto Repair, Van Repair
Even with perfect maintenance breakdowns can still happen. We offer priority service at preferred rates, with the job done right the first time and all work guaranteed. We'll maintain a parts inventory for the makes and models in your fleet based on industry reports and our own experience. That way nearly all repairs are completed the same day, Monday – Friday. Towing services available.
Pacific Automotive
With over 20 years in business, ASE certified master mechanics and the latest in diagnostic equipment we're more than ready for fleet accounts and Enterprise Service Contracts and cards. We're a full-service shop located in San Diego with specialists in brakes, electrical systems, engines and transmissions, entry doors, wheelchair lifts, and shuttle bus air conditioning repairs.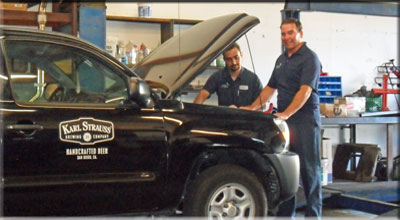 We currently provide fleet services to:
Children's Hospital
Karl Strauss Brewery
Retirement community shuttle buses:
Casa de Manana
Wesley Palms
Silverado