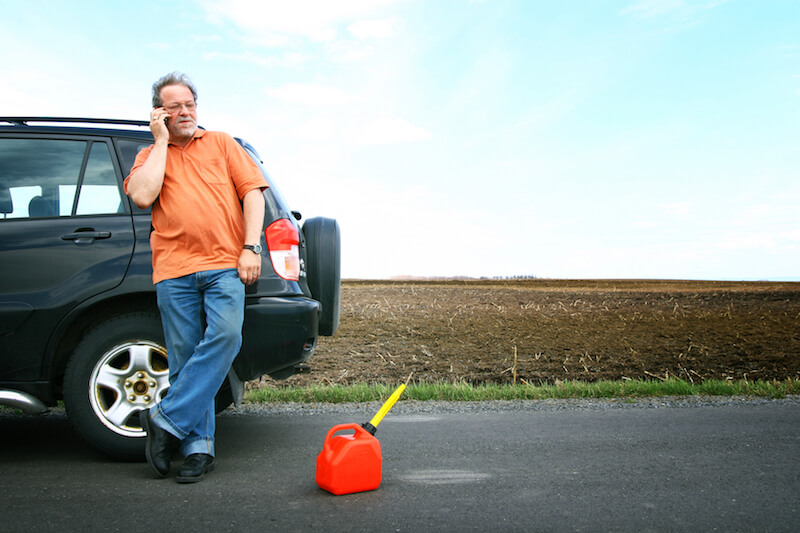 With fall approaching it's a good time to start thinking about taking advantage of model-year close out sales.  There's a huge list of factors that go into selecting the right vehicle, and their priorities vary tremendously from person to person, family to family.  Let's consider just one of those — fuel efficiency or fuel economy.  What are the best fuel-efficient cars for 2018?
Gas Mileage
Gas mileage is measured in mpg, miles per gallon. The number of miles you can drive per gallon of fuel depends greatly on driving conditions.  The United States regulates minimum mpg.  As a legal requirement and for the most accurate model-to-model comparisons the EPA (Environmental Protection Agency) has very detailed and specific testing requirements.  Measurements are made with the vehicle strapped onto an immobile indoor test-rig at specific temperatures, loads (measured by a dynamometer), simulated wind speeds, speed-acceleration-profile, and many more details.  One set of specifications are intended to mimic typical highway driving conditions, another city driving.  Only some 10-15% of each year's new models are tested by the EPA itself.  The other tests are managed by the manufacturers themselves.
"Your mileage may vary."
That disclaimer is an understatement considering the huge variations in drivers' styles, road and weather conditions, and traffic.  The point of the EPA-specified tests is to establish rigorous standards for comparison.  Consumer Reports performs their own actual driving tests to better understand fuel efficiency.  They establish standard routes, speeds, idle times, and other to minimize random variations.  Not surprisingly, their results show lower mpgs than the EPA results, anywhere from 3 to 24 % lower.  That's actually much closer than the way the EPA test procedures of several years ago.
Our Comparisons
We combed through well over a dozen reports to find the best fuel-efficient cars from 2018.  The US overall average is about 24 mpg.  Digesting the numbers it was surprising to discover that not only did mileage not vary all that much between vehicles in the same weight class, there wasn't as much variation between classes as one might think.
Unsurprisingly electric vehicles (EVs) and hybrids were the clear winners.  Special EPA ratings put EVs well above 100 mpg.  Leading makes and models of hybrids average nearly 50 mpg.  But much higher purchase prices make buying decisions more a matter of personal choice than dollars and cents.
Here's a miles per gallon summary.  It's for combined highway and city ratings, and includes both EPA and Consumer Reports test results.
Our Group
Vehicle Classes
Lowest
Highest
Average
A
Mini-compact, compact, mid-size, and large sedans.  Station wagons.  Small SUVs.
15
36
23.5

(less than 2% difference between classes)

B
Pickups and mini-vans.
14
22
19.0

(no differences between classes)

C
Standard SUVs
11
25
20.0
Combined City and Highway MPG
For fuel efficiency it looks like size doesn't matter much among sedans, station wagons, and small SUVs. Manufacturers are living down….that is once they reach the legal requirements or overall average mileage they stop trying to improve mileage.  How do the makes and models you're considering compare?
2018 Best In Class for Fuel Efficiency
Honda models dominate, having the most models in the top of their class for mileage.  But Toyota models as well as Chevy and Ford aren't far behind.
EVs
The top-mileage electric vehicle is Hyundai's Ionia, followed closely by the 2018 Toyota Prius.  Other leaders roughly in order include the Volkswagen e-Golf, Chevy Volt EV, Honda Clarity, Kia Optima, and Tesla.
Hybrids
The highest-mileage hybrids and EVs operating in hybrid mode include, in order: Hyundai Ionia, Toyota Prius, Honda Clarity, Chevy Malibu, and Kia Optima.
Mini-Compacts
The Mini-Cooper tops the mini-compact category at 32 mpg combined city and highway driving.
Sub-Compacts
At 35 mpg, the 2018 Toyota Yaris leads the pack.
Compacts
The Mitsubishi Mirage is the most fuel-efficient compact at 39 combined mpg.
Mid-Size Sedan
The 2018 Honda Civic leads the mid-size category, followed by the Chevrolet Cruz.  Other mpg leaders in this class include the 2018 Honda Civic, Ford Fusion, Hyundai Sonata, Toyota Camry, and Chevrolet Cruze.
Large-Sedan
We didn't spot any clear winners above the typical mpg for large sedans.
Station Wagons
The Volvo V90 topped combined mileage in this class, at 27 mpg.
Pickups
The Chevrolet Colorado, Ford F-15, GMC Canyon all come in at a leading 22 mpg combined mileage.
Mini Vans
The Honda Odyssey and Chrysler Pacific also both come in at 22 mpg.
Crossovers
Some reports put crossovers in their own category.  Top-mileage crossover vehicles include the Lexus RX luxury SUV and the Lexus NX .  Next are the Mazda CX-5 and CRX-3, Honda HR-V, 2018 Subaru Crosstrack, Nissan Juke, and BMW X3. They're followed by the Mercedes-Benz GLK250, Mitsubishi Outlander, and Subaru Outback at 28 combined mpg.
SUV
The Buick Encore, Honda CR-V, and Volvo XC90 are among the highest-mileage SUVs.
Sources
Did we miss a favorite?  Make a mistake? You can check "official" details at https://www.fueleconomy.gov/feg/best-worst.shtml and https://www.consumerreports.org/fuel-economy-efficiency/the-most-fuel-efficient-cars-best-mpg/
And no matter what make and model you choose, contact us at Pacific Automotive for professional and courteous service.