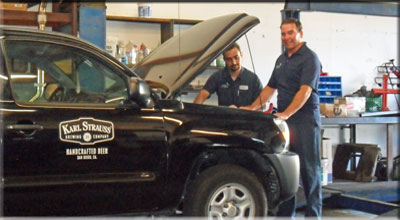 Every make and model of motor vehicle has a regular maintenance schedule prescribed by the factory. Why is scheduled maintenance important to car manufacturers? They want your new car, truck, SUV, or van to stay reliable and perform at its best so that they look good. But mostly they want to keep their cost of in-warranty repairs to a minimum.
In order to keep an automotive warranty intact you must follow their factory service schedule to the letter, although not necessarily at a dealership. With preventive maintenance you'll also benefit from better gas mileage, better performance, and few or even no breakdowns at all for many years.
After-Warranty Regular Maintenance
After the warranty expires you'll want to keep up with the recommended scheduled service to avoid unnecessary wear and damage. You'll save money in the long run ("an ounce of prevention is worth a pound of cure"), with fewer disruptive breakdowns and less time in the shop plus better gas mileage. You'll also have a better performing and far safer vehicle. Keeping your vehicle's service records will also mean a higher resale value, or a higher vehicle lifetime for you. Besides, most people take pride in their car or truck and want to keep it at its best.
A Typical Schedule
Therefore scheduled service is a small inconvenience that avoids major inconveniences and expensive repairs later. Of course, it's not exact to the mile, but don't wait too long for service specials or you may regret it. Here's a typical sequence. It only covers the most common items; every make and model has additional check points and scheduled replacements. Most vehicles last well past 75,000 miles (usually double and often triple that), so you just repeat the cycle.
Oil Change Every 3,000 to 5,000 Miles

This is an important base line, critical to cooling and reducing engine wear. The actual mileage interval depends on the type of vehicle (especially gas versus diesel) and driving conditions. And twice a year is recommended regardless of mileage. Any sort of stop-start driving means sooner changes, while synthetic oils can go as long as 7,500 miles between changes under ideal conditions. A good mechanic can tell you the best interval for your situation.

15,000 Mile Service Checkup

About once a year an oil and filter change should also include the air filter, replacing wiper blades if needed (just before rainy season is a great reminder!), and a careful inspection.

30,000 Mile Service

Roughly every other year scheduled maintenance should include replacing the fuel filter and changing the engine coolant as well as flushing and draining transmission and power steering fluids. Those fluids, and their protective additives in particular, break down over time.

45,000 Mile Scheduled Maintenance

This scheduled service includes new spark plugs and checking out the ignition system. Otherwise you're risking misfires (or even a dead cylinder) for a big loss in performance and the possibility of serious damage. This is also usually time for a thorough brake inspection, replacing the brake fluid, and often replacing the brake pads.

60,000 Mile Service

At this interval you repeat the 30 K mile items and usually replace the timing belt. That particular belt is critical for proper engine operation. Batteries last some 5-7 years, so this is often the time for a battery replacement as well.

75,000 Miles

Here you simply repeat the 15 K mile items.
Your Dealership Alternative for Scheduled Maintenance
Independent auto shops such as Pacific Automotive can save significantly over the costs of dealership preventive maintenance while still keeping warranty intact. By your choice we can use factory or OEM parts, and we're always up to date on factory information. Pac Auto employs ASE certified Master Mechanics and has been serving San Diego for more than 20 years. We're here for all your auto service needs: an economical oil change with expert oversight, repairs, and on up to transmission rebuilds and engine overhauls.