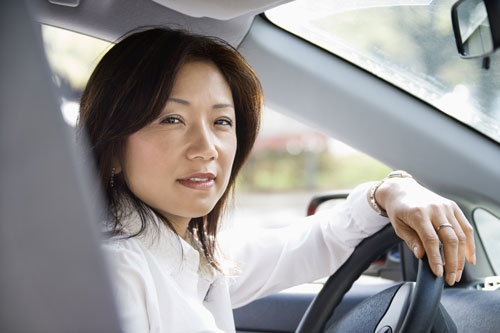 Most people don't think about maintenance for power steering, but it's an important part of any vehicle's factory maintenance schedule and critical for safety.  And then there's those times when car steering or handling seems strange and it's time for a repair.  It's not something you should put off, as a handling issue can change a near-miss into a collision and a major failure can leave you stranded by the side of the road.
What is Power Steering?
In most cars and trucks there's a hydraulic system that makes it far easier to turn the wheel.  That system includes the power steering pump, belts, hydraulic power steering fluid, hoses, linkage, and more.  Together they amplify the force you use to turn the wheel into something stronger to turn the tires in the right direction by just the right amount.  The complete steering system includes numerous other parts such as tie rods, bushings, and ball joints.
Steering Problems
Handling problems that seem like a steering issue may actually be indicating the need for a repair to the suspension.  So an expert diagnosis is often needed.  Considering safety issues, be on the alert to the following types of common symptoms.  Fortunately many repairs are quick and relatively inexpensive.
If you experience any of these symptoms it's time to have an experienced mechanic diagnose and repair your vehicle.
Pulling to one side could just be a matter of tire pressure or wheel alignment.
Difficulty turning the wheel or a high-pitch noise usually indicates a faulty power steering pump, but it could also be worn power steering belts, a clog anywhere in the hydraulic system, or mechanical trouble elsewhere.
If the wheel jerks there's probably a loose or worn belt.
A fluid leak could be oil, radiator water, transmission fluid, or power steering fluid.  And that leak could be in a pump, hose, or seal.
Wandering is usually a suspension problem.
Noises or handling concerns on bumps are probably a suspension problem.
Nowadays many cars have electronic steering assists systems, so be sure to take your car, truck, SUV, or van to a mechanic's shop that has an expert who can read out and most importantly properly interpret the diagnostic codes.
Steering System Maintenance
You should have a general power steering checkup every 6,000 to 10,000 miles (6 to 12) months as part of your regular maintenance schedule.  That should include checking steering fluid levels and condition as well as a complete inspection of the steering system, including seals and boots.  Power steering fluid needs to be changed every 40,000 to 50,000 miles depending on its condition, and the factory maintenance schedule for your vehicle will likely include changing the fluid as well as replacing belts and hoses at a particular intervals.
Pacific Automotive San Diego
We're ready for steering repair and service with ASME certified master mechanics ready to diagnose and repair whatever ails your vehicle.  We're San Diego's affordable dealership alternative, maintaining your warranty and keeping you vehicle running longer. In business for over 20 years, we're a one-stop shop for all your automotive needs.  Our customers love the personalized attention we give them and their vehicles, and we guarantee your satisfaction.