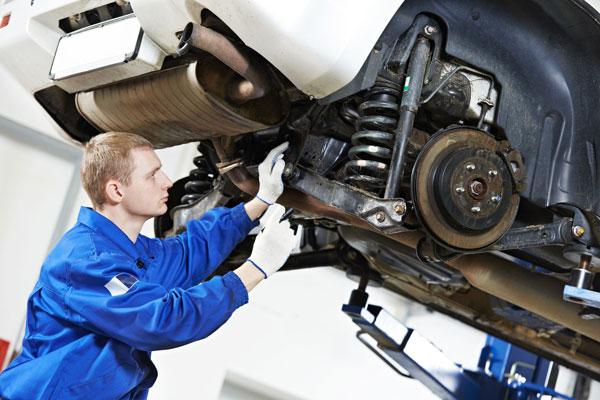 Chassis lubrication isn't just about squeaks on bumps, pot holes, and turns.  Although those are important symptoms, a lube job avoids excessive wear that leads to unnecessary repairs and in extreme cases can make a difference in handling and safety.  A vehicle's chassis is the undercarriage that carries the weight of the vehicle.  Since it needs to flex in order to deal with various forces there are many types of joints, including ball joints, tie rod ends, shocks or struts, suspension springs, steering arms, and more.  And those need lubrication.  The front end is typically the most complicated, but additionally drive shaft universal joints (U joints) and sway bar links often also have grease fittings for preventive maintenance.
Yesterday and Today
Many of today's vehicles are promoted as having permanently sealed teflon-coated ball joints for lower maintenance costs (http://www.dallasnews.com/business/columnists/car-talk/20130906-cars-generally-dont-need-lube-jobs-anymore.ece).  That often includes tie rod ends and U joints as well.  But that's a bit controversial as other parts of the chassis may still need lube jobs, and like any moving part those sealed joints experience wear and eventually need replacing.  Aftermarket repair parts typically include grease fittings for extra protection even though they may include friction-reducing technologies.  And trucks commonly require chassis lubrication on ball joints and tie rods.
So check your vehicles maintenance schedule and service history, or just bring it to us for regular oil/filter/chassis lube service and we'll check it out for you.
Scheduled Maintenance
Chassis lubrication for those moving joints reduces friction and seals out moisture.  Both reduce wear and extend lifetimes.  Rather than being slathered on, a lube job forcefully pumps in heavy duty lithium grease with a grease gun.  Those chassis lubrication fittings double as a one-way valve, keeping the grease in place.  When called for (usually it should be about once a year) chassis lubrication is part of a full oil change service.  While your vehicle is up on the rack it just makes sense to lubricate all grease fittings and inspect the suspension.  It's a simple routine procedure, but it needs to be done properly.  You need more than just a grease gun.  It's important to clean the fitting first so as to not force dust and dirt into the joint and to be careful not to damage the rubber boots.  Those boots keep out dust, grime, and moisture for longer lifetimes.
[alertbox4 caption="TIP: "]Lithium grease is also great for dealing with noisy trunk and hood hinges, release latches, leaf or coil springs, and door latches. But it's usually necessary to clean the mechanism first, and that's often done with penetrating oil.[/alertbox4]
Pacific Automotive
We're a full-service auto shop, ready to meet your oil / filter / chassis lube needs as well as other maintenance and repairs.  With the latest factory information and diagnostic equipment we'll keep your warranty intact, extend the life of your vehicle, and keep it performing at its best.  With our technicians and ASE certified master mechanics, we've been serving San Diego for over 20 years as a top-quality and economical dealership alternative.  You and your vehicles will receive the personal attention you deserve, and we guarantee your satisfaction.