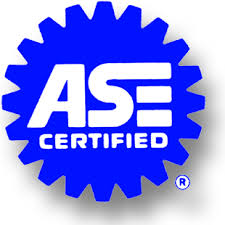 You've probably heard about "ASE certified mechanics" and seen the blue logo fairly often, but maybe haven't stopped to wonder exactly what that means.  Basically, if someone hasn't passed ASE certification tests they're probably not serious about professional auto repair.  But just what is ASE?
The ASE
Have you ever worried about how good an automotive service mechanic is?  Are they well-trained and experienced?  There's a nationwide program that answers that for you.
The non-profit National Institute for Automotive Service Excellence was founded in 1972 to assure quality auto shop services by independently testing and certifying professionals.  ASE certification means you're dealing with an automotive professional for vehicle repair and service.
ASE Certification
You can count on the nearly 300,000 ASE certified mechanics in the US to do the job right.  They've met some pretty stringent requirements to demonstrate their technical expertise and detailed understanding of automotive service.  An ASE certified technician has met all of the following.
They have 2 years of experience in on-the-job training in automotive repair and service, or 1 year of experience plus a 2-year degree in auto repair. So they're not fresh out of a tech school.
They have passed several challenging ASE Certification tests.  There are some 40+ different tests, each with many dozens of questions covering various areas such as automatic transmissions, brakes, electrical, emissions, engine performance, engine repair, heating & AC, radiators & cooling systems, and suspension & steering.  Each test emphasizes practical know-how for cars and light trucks.  The tests are independently administered and are developed by a large team of experienced automotive professionals, vehicle and parts manufacturers, and educators in order to avoid bias.  A third of all automotive technicians fail a test the first time they take it.
Certified technicians have to be re-tested every 5 years to assure that they're up to date on the ever-changing latest technologies, equipment, and techniques.
To qualify as a master ASE certified automotive technician a mechanic has to pass tests in at least 8 different areas.  Most have taken automotive technician training classes and formal courses in preparation for their careers and stay on top with continued education.
Benefits
It's important to use only auto repair shops with National Institute for Automotive Service Excellence certified technicians for your vehicle's maintenance and repair.  After all, it does stand for Automotive Service Excellence.  You can rest assured that your vehicle repair and service is being being done by someone who truly understands how everything works, how to make a proper diagnosis, and how to properly repair your vehicle.  It's worth paying a little extra for someone who is verifiably experienced, knowledgeable, and up to date.  But certified mechanics are actually less expensive, taking less time and providing better results that reduce future repairs.  And many perform extra services at no charge to keep up their skills and reputation.
Contact us or stop by anytime for professional help.