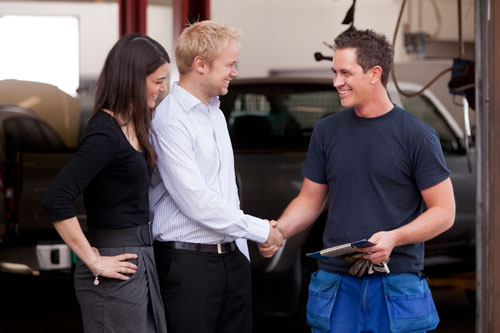 With such busy lives many of us often make choices on autopilot without really thinking about it.  Such as taking our cars back to the service department of the dealership where we purchased them.  So you may be surprised to know that less half of new-car owners remain loyal to their new car dealer after 2 years, instead going to an independent local auto repair shop.  According to the National Institute for Automotive Service Excellence, 70% of car owners go to independent shops even while their cars are still under warranty.
Thanks to the Magnuson-Moss Warranty Act of 1975 you do not need to have maintenance and car repair work done by a dealership to keep a warranty intact.  But if you choose an independent mechanic be sure to keep all your records demonstrating that you had the required maintenance done according to the manufacturer's schedule.
So just what are the pros and cons?
The Pros and Cons of Auto Dealership Services
In terms of what's best for your car there's not a big difference between a car dealership and an independent mechanic.  So to how to choose between them?  The major factor in most people's minds is cost.  Studies covering thousands upon thousands of service visits show that car repairs at a dealer shop range from 15% to 25% more expensive, with the average right in the middle.  But there's other factors to consider as well.
Dealer Shops
A large dealership's service department will handle hundreds of cars a month.  That's both good and bad.  They'll be more specialized and more experienced, but since they don't depend on each and every customer you may just be a number to them.  Their mechanics may be rigorously trained on particularly models, but will usually be pressured by allocated times or quota systems.  And some dealerships have earned a reputation for pushing needless services.
But it's certainly true that a new car dealership will have the latest and greatest equipment and be fully prepared for the newest models and their high-tech electronics.  Another benefit is that their warranties are typically honored nationwide.  Labor and parts warranties of 12 months or 12,000 miles are common.
Independent Local Auto Garages
Besides price, the biggest advantage of a local independent garage is personal service.  You're likely to meet directly with your mechanic, and after a couple of visits they'll remember you and your vehicle.  Small independent shops depend on repeat customers and word-of-mouth "marketing," so they know they really have to please you.  They also tend to be close by and more convenient.  Even without an appointment there's usually little or no waiting to be seen, although maintenance and repairs tend to take a little bit longer.
Unlike just a few years ago dealerships had the advantage of more up-to-date Technical Service Bulletins (TSB) detailing diagnosis, repairs, and special procedures.  But now days independent shops can have pretty much the same computer systems and information.
How to Choose the Right Independent Mechanic
With repairs averaging in the neighborhood of $1,000 choosing an independent local auto repair shop can put a few hundred dollars back in your pocket.  But don't go with just any local shop.  An independent mechanic should also be well trained and certified.  ASE (Automotive Service Excellence) is arguably the certification leader, and other organizations include NAPA, PPG, and others. A good local shop will offer you a choice between third-party replacement parts to save costs or OEM (original equipment manufacturer) parts to keep everything under warranty.  The independent garage itself should guarantee its work.  But they'll be the only company honoring that warranty unless they're a member of a national association.  If you own a late-model vehicle you should also confirm that the shop has a paid subscription to those manufacturer's TSBs for your make and model.
Conclusion
A recent Consumer Reports survey shows that independent repair shops generally rank higher in overall satisfaction, price, quality, and on-time completion. The key exception would be high-end specialty brands that most independent mechanics wouldn't be familiar with.
It's easy to find bad, if not horrendous, examples of both new car dealership service departments and independent local auto shops.  So take the time to check out online reviews and the BBB (Better Business Bureau) before giving anyone a try.  On balance things tend to tip in favor of independent auto repair shops for both scheduled maintenance and car repairs. Feel free to contact us today to meet our fantastic local team.