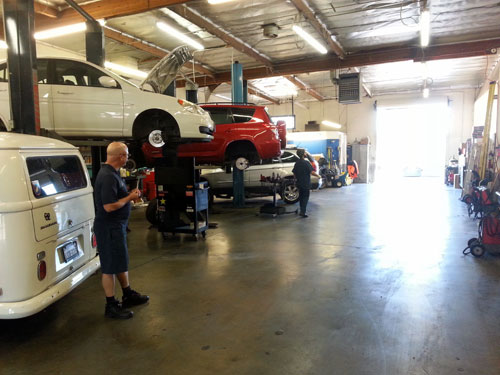 Owners and operators of large fleets often find it desirable to contract out fleet services.  And for small- to mid-sized businesses, contracted fleet maintenance services may be the only viable option.  Why is that better than just taking vehicles into a local mechanic or dealership when service is due?  Besides taking a few items off a busy manager's plate, it can better control costs, lower risks and promote smoother operations.  Altogether that provides a host of benefits.
The Benefits
For high-usage vehicles just keeping track of service needs and scheduling shop visits can be a daunting task, whether maintaining a factory warranty or for preventive maintenance on higher-mileage vehicle. Or you can let a specially-qualified local garage manage maintenance and repairs for you, providing both tangible and intangible benefits from pro-active servicing.
A Fleet Service Contract
Offers reduced rates for scheduled services and repairs. You'll also have controlled, predictable costs.
Gives you priority repairs for faster completion.
Avoids the cost and risks of maintaining your own garage and trained mechanics, including dealing with OSHA, hazardous materials, and insurance requirements.
With the right choice of company you'll have highly trained mechanics and technicians. They'll be more productive, especially when it comes to repairs, and you'll be assured of quality work.
Lean fleets have few or no backup vehicles, making reliability and predictable managed service even more important.
Complete Preventive Maintenance
Fewer breakdowns mean reduced repair costs, reduced downtime, and uninterrupted services. That in turns means solid on-time personnel transportation and on-time deliveries for improved customer satisfaction. Fewer hassles and worries also improves driver satisfaction and dedication.
Keeping your fleet in peak condition reduces operating cost. According to Automotive Fleet Magazine fully maintained sedans can have up to 40% better fuel economy.
Improved safety and reduced accident exposure for vehicles, drivers, passengers, and cargo.
Maintains vehicle warranty plus confidence in passing CHP, DOT, and Federal Motor Carrier Safety Administration testing.
Vehicles have a longer in-house economical lifetime and retain more value when sold.
In brief, fleet maintenance services are the backbone of dependability for reduced, predictable life-cycle costs and improved customer satisfaction.  They're usually the best balance between doing maintenance and repairs in-house and simply going to a local mechanic or dealership.  And that means a more profitable business.
Did You Know?  A study done for the FMCSA (Federal Motor Carrier Safety Administration) revealed that a bit over 1/4 of all accidents involving one truck and one passenger vehicle were caused by brake problems.  That's more than speeding and driver fatigue combined.
Pacific Auto
With us you'll benefit from expert diagnosis and complete maintenance that's always up to date with factory information.  That includes steering and suspensions, wheelchair lifts, lift gates, and automatic doors.  Plus a 2 year / 24,000 mile nationwide warranty.  Our experience and expertise covers sedans, light trucks, vans, and shuttle buses, including Ford Transit and Transit Connect, Mercedes-Benz Sprinter, and Nissan NV vehicles.
We've implemented precautions in accordance with guidelines from the World Health Organization (WHO) and Centers for Disease Control and Prevention (CDC),
Our ASE certified technicians and master mechanics work with the latest diagnostic equipment. We guarantee all our work. And we are open to serve you!