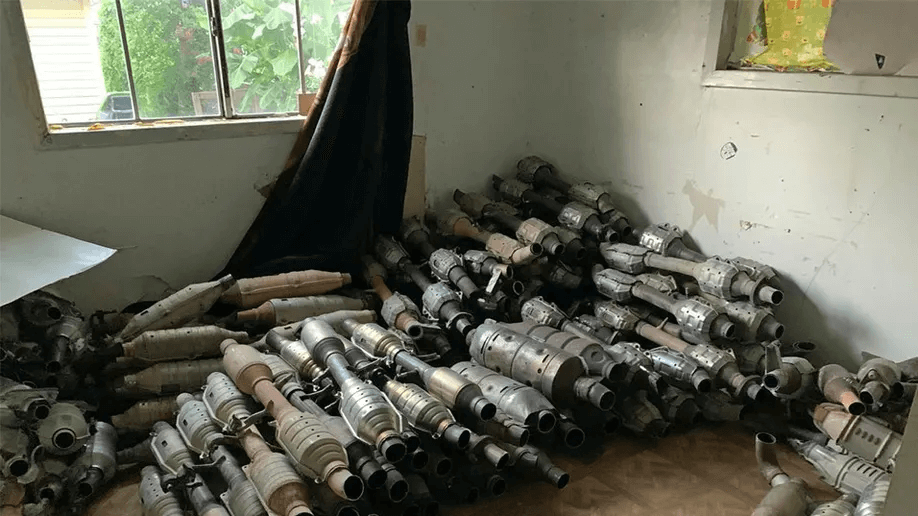 Last month, "amidst a rise in catalytic converter thefts across the country, the United States Department of Justice…carried out an operation arresting 21 defendants and executing 32 search warrants in a nation-wide takedown of a multimillion-dollar catalytic converter theft network." This is why they recommend a catalytic converter lock, especially in California. "Last year approximately 1,600 catalytic converters were reportedly stolen in California each month, and California accounts for 37% of all catalytic converter theft claims nationwide."
The photo above was taken by Houston authorities during apprehension of six individuals in connection with a crime ring that had nearly $12 million worth of stolen catalytic converters. The investigation stemmed from the death of a Sheriff's Deputy who was shot while trying to stop thieves from stealing his catalytic converter.
California is a Hot Bed
"With California's higher emission standards, our community has become a hot bed for catalytic converter theft," said U.S. Attorney Talbert of California.
A component of your vehicle's exhaust, catalytic converters work to reduce the toxic gas and pollutants from the internal combustion engine into safe emissions. They use precious metals such as palladium, platinum, and rhodium in their core. The value of these metals has been increasing in recent years, and some of them are more valuable than gold!
Catalytic converters can be sold on the black-market for more than $1,000 each, depending on the type of vehicle and what state it is from. Without protection, they can be stolen in less than a minute. And because they often lack VIN information, serial numbers, or other distinctive identification features, it is difficult to trace to their lawful owner.
Pacific Automotive – CatClamp Catalytic Converter Lock Approved Installers
Conveniently located near the 5 and 52 freeways in San Diego, Pacific Automotive is a registered installer of CatClamp Converter Locks. Protect yourselves and your vehicle. Give us a call to schedule, or stop by today!