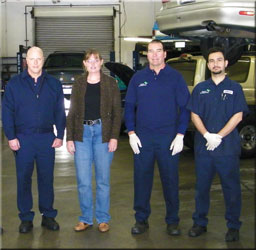 We've just made it to the quarter-century mark — 25 years of serving motorists with outstanding vehicle service, maintenance and repairs.
Why We've Succeeded
As an independent auto shop we save our customers money and give them the personalized attention they deserve. To earn your trust and stay in business we know we need to build relationships.  Getting to know you and your vehicles makes a world of difference in efficiently keeping your car, van, or truck on the road and operating as it should.
Our technicians recognize your particular vehicle and its history. Knowing what's happened in the past lets them know exactly what to look out for, along with any quirks or special add-ons. You'll find it quick and easy to talk to your mechanic and get to know them as they get to know your driving habits and what's most important you.
Your First-Choice in Independent Vehicle Service
Independent auto shops are a viable alternative to dealerships, with access to all the same information and diagnostic equipment. Technicians are every bit as good, if not better. They're focused on what gets the job done, not what meets quotas. You'll have a choice of lower-cost aftermarket parts (versus OEM — original equipment manufacturer) at the same or even better quality. And you can expect better customer service with more flexibility.
Here's a few more reasons why San Diego area motorists keep coming back to Pacific Automotive year after year.
Our ASE Certified Master Technicians display skill, integrity, and attention to detail.
We perform all major services for maintaining your warranty — keeping your vehicles safe, reliable, and performing their best.
Unlike many small independent automotive shops, we have the latest diagnostic equipment as well as the latest documentation and service bulletins from auto manufacturers.
If you own different makes, we're a single shop that can take care of them all.
We provide same-day repairs for most vehicles, even when special parts are needed.
Our team knows that we depend on our reputation, going the extra mile for quality work at fair prices, on-time completion, and professional courtesy.
So above all, we're motivated to keep our customers happy with their cars performing at their best and lasting their longest.
Our Team
We're not a tiny 1- or 2-person shop.  Our 5-person team covers the range and skills necessary for a true full-service shop for import as well as domestic vehicle service.  Individual professional experience ranges from 12 to over 30 years and includes factory training and dealership experience.
About Pacific Automotive
We've implemented precautions in accordance with guidelines from the World Health Organization (WHO) and Centers for Disease Control and Prevention (CDC),
Our ASE certified technicians and master mechanics work with the latest diagnostic equipment. We guarantee all our work. And we are open to serve you!