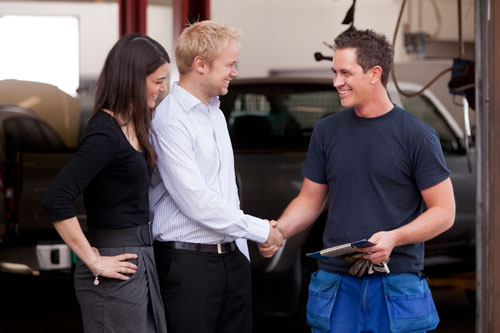 You know you need an oil change, typically every 3,000 to 5,000 miles. But did you know that even with fewer miles it needs changing every 6 to 12 months? And that those intervals vary with driving conditions and the type of vehicle? Even with our comparatively mild San Diego weather, regular oil changes are the most important and effective thing you can do to avoid high repair bills as well as to keep your vehicle lasting longer and performing its best.
You should also check the oil level every few hundred miles. A gas fill-up is a great reminder. Don't wait for the dashboard light to come on — an engine-damaging emergency is immanent and you shouldn't continue driving more than a few miles.
Why Replace Oil?
Simply adding oil isn't enough. Compounds break down, reducing performance and protection. Contaminants build up, harming the engine and potentially clogging the oil filter and causing major problems.
Motor oil does a lot more than lubricate to reduce friction. It reduces wear, helps with cooling, and completes the seal between the piston, rings, and cylinder. Additives neutralize corrosive acids, and motor oil even dampens shock and noise. Over time "varnish," carbon, and other contaminants build up and normal engine temperatures cause oil to break down and thicken.
That's why regular service is so important – getting rid of any build-up and replacing exhausted additives. Rules of thumb range from 3,000 – 4,000 miles on up to 3,000 to 7,500 miles and 6 or 12 months, whichever comes first. The proper interval depends on your make and model as well as your driving conditions, so check your owner's manual. Stop and go traffic, mostly short trips (under 10 miles), towing a boat or trailer, and other factors mean shorter periods. Older vehicles also require more frequent service, and may need a heaver "weight."
Regular or Synthetic?
Engine oil comes in a variety of "weights," with numbers indicating viscosity (thickness). "Multi-grade" is pretty much the standard, with 5W-30 the most commonly used. That gives 5-weight at 0 degrees and 30-weight at 210 degrees Fahrenheit.
Synthetic oils (not refined from crude) are longer lasting (typically up to 7,500 miles) and are better at reducing wear. They maintain viscosity over a wide temperature and thicken less with age. Check your owners manual and ask your local mechanic about synthetic versus regular for your particular vehicle as well as the recommended interval.
Oil Filter Change
Oil filters removes tiny particles that would otherwise accumulate. Many sources recommend that you replace the filter with every other oil change, but a replacement at every change is a good idea. Changing both oil and filters is a very small additional cost for an extra margin of protection and reliability.
Pacific Automotive for Your San Diego Oil Change
If you're a bit wary of fast-franchises, you'll love the expertise and personal attention we provide. We won't overlook anything important, and won't do a sales-job on things you don't really need. Pacific Automotive has been in business satisfying customers for over 20 years with ASE-certified master mechanics. We'll maintain your warranty and guarantee your satisfaction. Our basic service includes oil and filter changes with EPA approved disposal along with lubricating chassis grease fittings as applicable. It's also a good time to check the air filter, check other fluids, inspect the vehicle, and take care of miscellaneous maintenance items.