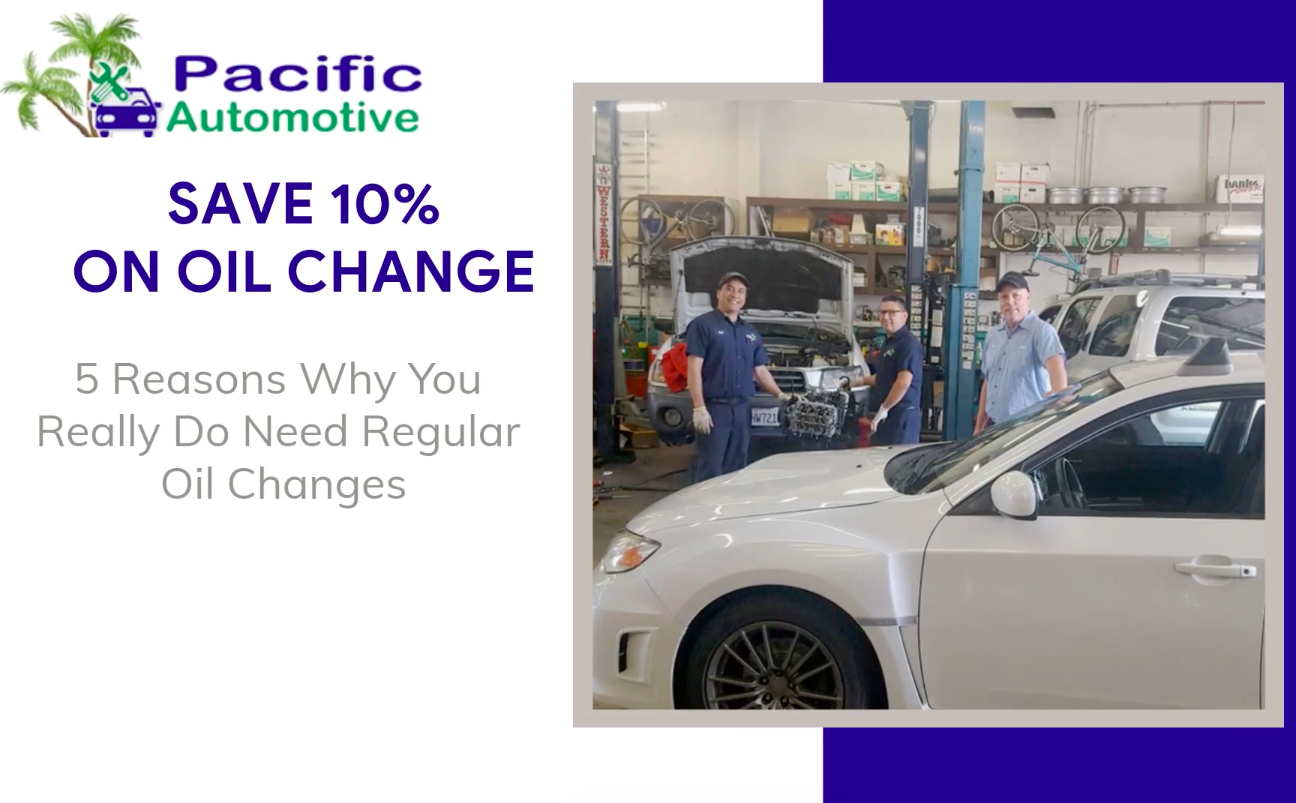 An oil change is easy to put off, seemingly without consequences. It can be an inconvenience and you may have wondered just how necessary it actually is. But the fact is that following the recommended oil change schedule is critical in keeping your vehicle running properly and in avoiding major breakdowns. Regular oil changes can be a big money and time saver.
Why Regular Oil Changes?
It's all about friction.
Motor oil is a lubricant. It's circulated throughout the engine, reducing friction and protecting key components by reducing wear on fast-moving parts. Further, friction produces heat, so oil reduces heating while its circulation also carries heat away from critical extra-hot areas. It also contains additives that protect against corrosion caused by moisture and other contamination. What's more, additives reduce various kinds of carbon deposits, but these then end up accumulating in the oil.
But as you drive heat, oxygen, wear, and simply time itself degrades oil's capabilities so it provides less and less protection.
Compounds in additives break down over time and as they do their job.
Natural oil itself breaks down and thickens at high temperatures, even to the point that some becomes a gel or sludge. That's mainly because as oil oxidizes it forms acids and polymers, including those hard, shiny deposits called "varnish."
Wear on engine parts release tiny particles, and the oil filter can't remove them all. You end up with sludge and a runaway increase in wear.
Bonus Benefit: A record of complete maintenance is important to used car buyers, making your vehicle easier to sell and perhaps increasing the resale price.
Those 5 Key Benefits
So what's the bottom line on all that? Here's our Top 5 real reasons for regular oil changes.
Failure to do so can void your vehicles warranty. Manufacturers know how important this is!
Better engine protection, avoiding breakdowns (perhaps even having a completely un-repairable engine) and extending vehicle lifetimes.
Reduced heat lessens the odds of an overheating problem when the engine has to work really hard.
Less friction means improved performance.
They're an opportunity for the mechanic to do a quick inspection.
In Brief
For 25 years, we've put the people in our community first, and embraced a set of values that emphasize the importance of always doing the right thing.
Fresh motor oil lubricates, protects, and cools. It's critical for proper operation and a long vehicle lifetime.
Yes, you can probably delay an oil change by a month or two, or even skip one. But you're taking a risk. It's only around $100 for 2 oil changes a year. Compare that to $4,000 to rebuild and engine that's seized up due to old oil or low levels.
Visit Pacific Auto for 10% Off and Pick Up / Delivery Service
During this pandemic, we are offering 10% off most services. Also we are now providing No Contact Pick Up and Delivery Service. We will email you the estimate for approval. We accept payment over the phone with credit card.
During quarantine, we are open to assist with all of your vehicle needs. We have implemented precautions in accordance with guidelines from the World Health Organization (WHO) and Centers for Disease Control and Prevention (CDC),
Our ASE certified technicians and master mechanics work with the latest diagnostic equipment. We guarantee all our work. And we are open to serve you!