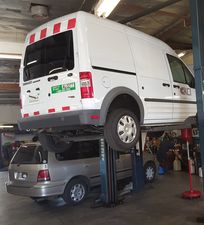 As we make our way out of the pandemic, it's time for transit van owners and fleet managers to look after their vehicles' health. Yes, that means proper cleaning and sanitization. But if the vehicle has seen limited (or no) use over the past few months then it's time to also look into maintenance.
Many items in a maintenance schedule are based on months instead of miles. As just one example short trips rather than the usual long routes don't heat the interior of the engine enough to burn-off deposits, leading to reduced performance and a higher chance of other problems.
Plus, sitting for a while can bring problems of it's own. So with dependability and safety at stake it's important get caught up on all maintenance. And inspection by an ASE certified mechanic can be a wise move. We're experts in Ford Transit vans as well as Nissan, Dodge, and other makes. Our personalized services keep your vehicles dependable and ready to go!
Signs and Symptoms
Here are a few things to be on the lookout for.
The battery often becomes a problem with idled transit vehicles. Unlike many other battery technologies, those used in gas and diesel vehicles "self discharge" fairly rapidly. And taking only very short trips may not provide enough time for the car to do the re-charging itself. So if when starting the engine turns over slowly and perhaps doesn't start at all you may only need it put on a charger, not install a new battery.
It's especially important to pay attention to a check-engine light. That could be something, perhaps major perhaps minor, that developed over time or as a result of being parked for a while. Likewise any differences you notice — especially with brakes, handling, or performance — should be looked in to promptly.
Maintenance Catch-Up
Bringing a vehicle back in to full service is a good time to get caught up on regular maintenance, including taking care of items that otherwise wouldn't be due for a few more months. Even those major 30,000, 60,000, and 90,000 miles services. A mechanic's inspection should be part of that, especially as regards brakes and other critical systems. You'll be safer and have added extra miles to your van's service life.
That includes oil changes. You may well be in the habit of thinking in terms of mileage, but for many vehicles an oil change every 6 or 12 months is recommended regardless of miles There's also likely to be minor scheduled servicing, often every 12,000 miles or 12 months that may have come and gone since last March. And for diesels that could be 6,000 miles or 6 months.
TIP #1: If a change-oil light comes on, it's an automatic reminder to change the oil within the next 500 miles or so. Or sooner if it's been more than 6 months. But if an oil-pressure light comes on it's very serious and you should add oil and head for a mechanic as immediately.
Ford Transit Tips
Ford Transits are among the most popular make and model van on the road. So here are a few tips specific to this particular van.
TIP #2: Ford Transits are more prone to loose starter motor and battery connections, so check these out before thinking you need a new battery.
TIP #3: As we mentioned, a change-oil light means the oil is reaching its "end of life." If you ignore it you'll get a more serious warning after 500 to 1,000 miles
TIP #4 Various model years have experienced a higher-than-usual incidence of flywheel failures, and these can lead to clutch failure as well. Some years experience transmission problems earlier than most. So keep a watchful eye out for these.
Transit Van Repair Expertise
Pacific Automotive employs ASE certified mechanics so you can be confident the job, whatever it might be, will be done right. They're experts at diagnosis — whether engine, clutch, transmission, electrical, exhaust, or cooling — and are armed with the latest equipment and factory data.
About Pacific Automotive
We've implemented precautions in accordance with guidelines from the World Health Organization (WHO) and Centers for Disease Control and Prevention (CDC),
Our ASE certified technicians and master mechanics work with the latest diagnostic equipment. We guarantee all our work. And we are open to serve you!
Please Note: We will be closed Thursday, December 24th thru Friday, Jan 1st 2021. We will re-open Monday, January 3rd, 2021. Aside from those days give us a call and we can pick up your car and return it after inspection and maintenance.