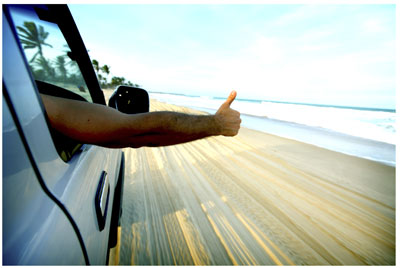 Many of our customers present us with questions about their used cars and sometimes bring in cars that they are thinking about buying.  Obviously, we have acquired a great sum of knowledge about auto repair, brake service, general engine repair, clutch repair, transmission repair, and oil changes.  Therefore, here is some with advice about purchasing and maintaining used cars.
It is always prudent to test drive a used car.  There are always several thousands of used cars for sale in the city.  Buying a car without testing it could be an extreme waste of time and energy.  However, what should you look and listen for when performing a test drive?
Tip 1:  Look Before Driving the Used Car
Before entertaining the idea of the test drive, take a look under the hood.  Have a rag with you if possible.  You will want to use it to check the proper levels of oil, transmission fluid, and coolant.  If you smell strong odors, this is a sign of trouble lurking.  Also, if the oil or transmission fluid looks dirty or cloudy, there are problems with the car.  Check the main oil cap for sludge; this is a good indicator of negligent maintenance.  Inspect all of the hoses and belts for cracks.  Look underneath the car for signs of leaks.  Repeat this after you drive the car as well.  Examine the tread of each tire.  Where there is uneven wear, there are suspension parts issues.  Finally, get in the car and accelerate the engine.  Take a look in the rearview and side mirrors for exhaust smoke, which can indicate internal engine problems.
If you ever have specific repair questions about a used car, give us a call or bring it by.  We'll take a look at it and diagnose what condition the vehicle is in.  Pacific Automotive works on domestic and foreign vehicles including BMW, Audi, Honda Repair, and Toyota Repair.
Our mechanics are ASE-certified and we offer pickup and delivery service.